Dr. David Wilkinson
Endocrine Surgeon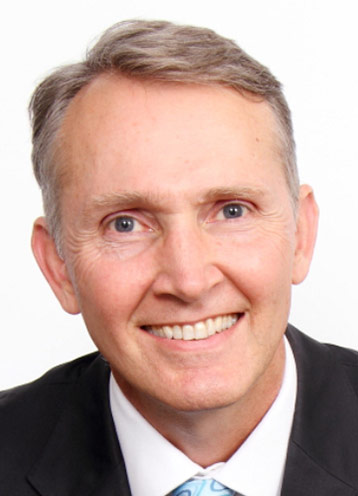 Dr. David Wilkinson
Dr David Wilkinson's endocrine surgery specialty includes management of simple thyroid nodules and over-active parathyroids as well as complex, recurrent, malignant, functional and hereditary conditions.
Having accrued more than 20 years experience in this specialty, Dr Wilkinson performs over 250 thyroid and parathyroid operations per year, and does more parathyroid surgery than any other Queensland surgeon.
Excellent outcomes are achieved when endocrine gland disease is treated by a sub-specialist who performs a narrow range of procedures frequently. Dr Wilkinson is one of a handful of surgeons who genuinely belong in this category. He tailors treatment to suit individual patient circumstances, using surgical techniques that are minimally invasive, where appropriate, thus reducing potential side effects.
His special interests include minimal access thyroid and parathyroid surgery, and intra-operative monitoring of the nerves to the voice box.
Training
After completing his Bachelor of Medicine, Bachelor of Surgery (MBBS) at the University of Queensland in 1989, and receiving his general surgical fellowship (FRACS) in 1996, Dr Wilkinson undertook a further three years of higher level specialty training and experience as a fellow in breast and endocrine surgery both locally and overseas in Bristol, England, where he worked closely with the late Professor John Farndon at the Bristol Royal Infirmary. He has worked in the breast and endocrine subspecialty since 1996, but now chooses to focus his work even more sharply on the endocrine part of the specialty.
Contributions
To help understand your condition, please peruse
Clinical Information
written by Dr Wilkinson for this website:
Thyroid
,
Parathyroid
or
Adrenal
.
Qualifications
MBBS FRACS
Accredited at the Following Hospitals

Mater Private Hospital

St Andrews War Memorial Hospital

Special Interests

Endocrine surgery

Minimal access thyroid surgery

Minimally invasive parathyroid surgery

Parathyroidectomy after failed localization

Re-operative parathyroidectomy

Renal hyperparathyroidism

Thyroid cancer

Associations

Australian and New Zealand Endocrine Surgeons

Australian Medical Association

Member of International Association of Endocrine Surgeons

Appointments

Mater Private Hospital

St Andrews WM Hospital
Practice Locations
Dr David Wilkinson

Level 4, Alexandra
201 Wickham Tce

Brisbane, Queensland 4000

Australia

1300 784 070
Contact Details