A/Prof. James Lee
Endocrine Surgeon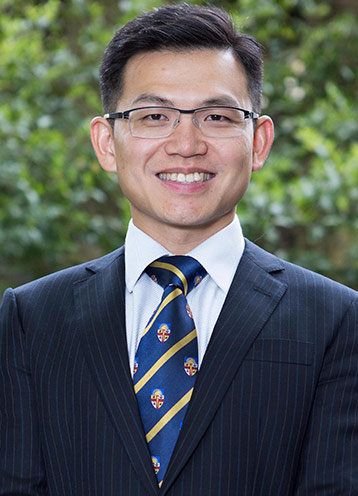 A/Prof. James Lee
A/Prof James Lee is a General Surgeon specialising in Endocrine Surgery, based in Melbourne. His interests include all aspects of thyroid surgery, parathyroid surgery and adrenal surgery.
PATIENT PHILOSOPHY
James is a strong advocate of patient-centred care and endeavours to provide the best personalised treatment plan for each individual patient. With his experience in research and teaching, he is able to provide his patients with the latest evidence in their treatment options, while actively engaging them in the decision-making process throughout their treatment. In addition to surgical recommendations, James sees patient education and effective communication as essential elements to his patients' journey to recovery.

A/Prof Lee treats private patients at Epworth Richmond and Knox Private Hospital; and uninsured patients at The Alfred Hospital, Monash Medical Centre and Casey Hospital. He is also a Senior Lecturer at Monash University. On the Executive Committee of the Australian & New Zealand Endocrine Surgeons, he is the Community Outreach Officer.

With his training in both clinical and academic surgery, James provides up-to-date surgical services to his patients, in a personal and friendly manner.
EDUCATION AND TRAINING
A/Prof Lee graduated from the University of Melbourne Medical School in 2001. He then completed training in General Surgery at the Austin Hospital, and qualified as a General Surgeon in 2010. After obtaining the specialist qualification, James underwent further training in Endocrine Surgery, both at the Austin Hospital in Melbourne and the Royal North Shore Hospital in Sydney. James undertook the prestigious T.S. Reeve International Fellowship in Endocrine Surgery at the Royal North Shore Hospital. In 2011, James attended the Endocrine Surgery University at the Mayo Clinic. This by-invitation only opportunity allowed him to gain further knowledge under the guidance of world leaders in endocrine surgery. James is committed to providing his patients with the highest quality surgical care in line with the latest research findings. He keeps himself abreast with up-to-date information by regular attendance national and international meetings. He has also been a regular presenter at many of these meetings.


RESEARCH AND ACADEMIC WORK
In 2014, A/Prof Lee completed his thesis on biomarkers of thyroid cancer, and was awarded Doctor of Philosophy (PhD) by the University of Sydney and has over 50 peer-reviewed publications and 3 book chapters to date. During his PhD candidature, James received several scholarships and research prizes from the Royal Australasian College of Surgeons. James is dedicated to the training and mentoring of the next generation of surgeons. Many of his research students have been awarded research prizes at both national and international conferences, and many more have had the opportunity to present their research findings and publish research studies in high-impact journals. These achievements are a testament to his commitment to excellence in surgery through research and education. James is a leader in thyroid cancer research in Melbourne. He and his collaborators focus their research on improving the patient's experience during thyroid cancer treatment - from diagnosis to surgery and beyond. James' ongoing research is supported by the Royal Australasian College of Surgeons Senior Lecturer Fellowship, Epworth Research Institute and The Aftershock Charitable Foundation.


Qualifications
MBBS FRACS PhD
Accredited at the Following Hospitals

Alfred Health

Epworth Richmond

Knox Private Hospital

Monash Health

Special Interests

Thyroid, Parathyroid and Adrenal Surgery

Associations

Executive Member of ANZES

Member of International Association for Endocrine Surgeons

Steering Committee Member of ANZ Thyroid Cancer Registry

Appointments

A/Prof Lee is fluent in Mandarin.

A/Prof Lee sees patients privately at Epworth Richmond, Knox Private, Williamstown and Berwick. Alternatively, patients can be referred to the Alfred Hospital or the Monash Thyroid clinic.

Affiliations

Fellow of Royal Australasian College of Surgeons

Member of Association for Academic Surgery

Member of Australian Medical Association

Member of Society of Asian Academic Surgeons
Practice Locations
Epworth Consulting Suites

Level 7, Lee Wing
Epworth Richmond Hospital
62 Erin Street

Richmond, Melbourne, Victoria 3121

Australia

03 9246 6466

Knox Consulting Suites

Suite 7.1
Knox Private Hospital
262 Mountain Highway

Wantirna, Melbourne, Victoria 3152

Australia

03 9246 6466

Hobson Bay Specialist Centre

93 Ferguson Street

Williamstown, Melbourne, Victoria 3016

Australia

03 9246 6466
Contact Details