Dr. James Lee
Endocrine Surgeon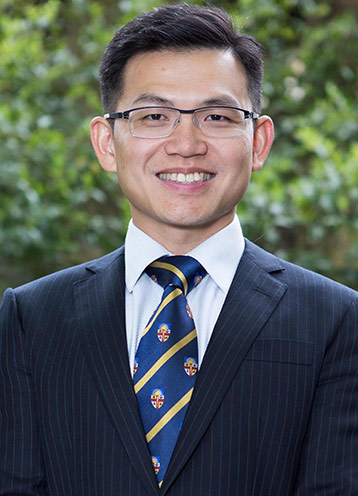 Dr. James Lee
Mr James Lee is a General Surgeon specialising in Endocrine Surgery, based in Melbourne. His interests include all aspects of thyroid surgery, parathyroid surgery and adrenal surgery.
Mr Lee graduated from the University of Melbourne Medical School in 2001. He then completed training in General Surgery at the Austin Hospital, and qualified as a General Surgeon in 2010. After obtaining the specialist qualification, Mr Lee underwent further training in Endocrine Surgery, both at the Austin Hospital in Melbourne and the Royal North Shore Hospital in Sydney. Mr Lee undertook the T.S. Reeve International Fellowship in Endocrine Surgery at the Royal North Shore Hospital.
In 2014, Mr Lee completed his thesis on thyroid cancer, and was awarded Doctor of Philosophy (PhD) by the University of Sydney. Mr Lee was the recipient of the T.S. Reeve Research Prize in 2011 and Best Basic Science Paper in 2012 at the Royal College of Surgeons Annual Scientific Congress. Mr Lee has over 30 peer-reviewed publications and 3 book chapters to date, and is a regular reviewer for Australian and international peer-review journals. Mr Lee is also dedicated to the training of the next generation of surgeons through his involvement with teaching hospitals. These achievements are a testament to his commitment to excellence in surgery through research and education. Mr Lee's ongoing research is supported by the Royal Australasian College of Surgeons Senior Lecturer Fellowship, Epworth Research Institute and The Aftershock Charitable Foundation.
Mr Lee is committed to providing his patients with the highest quality surgical care in line with the latest research findings. He keeps himself abreast with up-to-date information by regular attendance at national and international meetings. He has also been a regular presenter at these meetings. In 2011, Mr Lee attended the Endocrine Surgery University at the Mayo Clinic. This by invitation only opportunity allowed him to gain further knowledge under the guidance of world leaders in endocrine surgery. Mr Lee is currently a Visiting Surgeon at Epworth Richmond, Knox Private Hospital, The Alfred, Monash Health, and a Senior Lecturer at Monash University.
With his training in both clinical and academic surgery, Mr Lee provides up-to-date surgical services to his patients, in a personal and friendly manner.
Qualifications
MBBS FRACS PhD
Accredited at the Following Hospitals

Epworth Richmond

Knox Private Hospital

Alfred Health

Monash Health

Appointments

Mr Lee sees patients privately at Epworth Richmond, Knox Private, Williamstown and Berwick. Alternatively, patients can be referred to the Alfred Hospital or the Monash Thyroid clinic.

Mr Lee is fluent in Mandarin.

Special Interests

Mr Lee holds a PhD on tumour and circulating biomarkers of thyroid cancer, and is currently involved in ongoing research in this area. Mr Lee strongly believes in providing patients with care of their thyroid, parathyroid and adrenal conditions in accordance to the latest research findings; and care that is delivered in a friendly and patient-centred manner.
Contact Details
(03) 9246 6466
(03) 9246 6488
[javascript protected email address]