A/Prof. Catherine Sinclair
Neck & Thyroid Surgery, Laryngology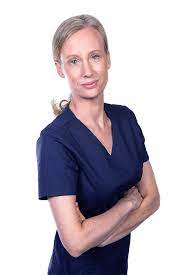 A/Prof. Catherine Sinclair
A/Prof Catherine Sinclair is a dual fellowship trained neck and thyroid surgeon and laryngologist. She is dedicated to providing patients with the highest quality care and to assessing patients on an individual basis for surgical or non-surgical treatments when appropriate.
Areas of special interest with respect to neck and thyroid include thyroid nodule surgery and radiofrequency / ethanol ablation, thyroid cancer, and laryngeal nerve monitoring and voice preservation during thyroid and neck surgeries. With regards to laryngology, areas of special interest include vocal fold lesions, professional voice, neurolaryngology and the laryngeal adductor reflex.
Catherine has been performing ultrasounds and biopsies of neck lesions in the office for over a decade, having performed over 3500 biopsies in that time. She discovered and developed a novel continuous neuromonitoring technique for the laryngeal nerves in 2016 and, in 2019, performed the first radiofrequency ablation of a thyroid nodule in New York, setting up the inaugral ablative program at Mount Sinai New York.
Qualifications
BSc (Biomed), MBBS (Hons), FRACS, FACS
Practice Locations
Osler House

159 Wattletree Rd

Malvern, Melbourne, Victoria 3144

Australia

1300 370 664
Contact Details