Dr. Ping-en (Paul) Chen
Thyroid Surgeon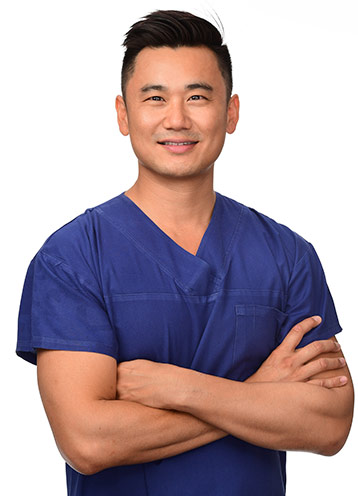 Dr. Ping-en (Paul) Chen
I'm a specialist Breast, Endocrine and General Surgeon with extensive experience in oncoplastic breast surgery, thyroid and parathyroid surgery with the utilisation of nerve monitoring.

I completed my surgical training at St Vincent's Hospital and Royal North Shore Hospital in Sydney after graduating from the University of Auckland. I then entered a two year post-fellowship training with BreastSurgANZ in oncoplastics breast and endocrine surgery at high volume centres in Perth and Melbourne. In pursuit of techniques in the forefront of breast surgery, I completed further training with world renowned oncoplastics breast surgeons in France and Italy.

In 2018, I attained a Masters of Surgery in Oncoplastics Breast Surgery and was awarded the John Lowenthal Medal for research from the University of Sydney. I have been widely published in surgical peer reviewed journals and have presented internationally in a wide spectrum of surgical topics. I continue to have involvement in the field of oncoplastics now teaching oncoplastic surgery to training breast surgeons.

Effective communication is critical throughout all aspects of medical care and I hold this as one of the core values of my practice. Furthermore, I am a firm believer in achieving patient satisfaction by combining excellent oncological result with maximal aesthetic outcome, delivering the best possible patient care.

With Taiwanese heritage I am multilingual and fluent in English, Taiwanese and Mandarin.
Qualifications
BHB, MBChB, FRACS, MS
Accredited at the Following Hospitals

Lake Macquarie Private Hospital

Gosford Private Hospital

Gosford District Hospital

Chris O'Brien Lifehouse

Brisbane Waters Private Hospital

Appointments

Endocrine and Oncoplastic Breast surgeon Gosford District Hospital, Conjoint Lecturer University of Newcastle, Endocrine and Oncoplastic Breast surgeeon Chris O'brien Lifehouse

Special Interests

Thyroid surgery, Parathyroid surgery, Oncoplastic Breast Surgery

Associations

International Association of Endocrine Surgeons

General Surgeons of Australia

Royal Australasian College of Surgeons

Breast Surgeons of Australia and New Zealand (BreastSurgANZ)

Australia and New Zealand Endocrine Surgeons

AMA

Breast Surgery International
Practice Locations
Gosford Rooms

98 Hills Street

Gosford, Sydney, New South Wales 2250

Australia

Sydney Rooms

Chris O'Brien Lifehouse
119-143 Missenden Road

Camperdown, Sydney, New South Wales 2050

Australia

Newcastle Rooms

Suite 12, Level 1/6-8 Sydney Street

Gateshead, Sydney, New South Wales 2290

Australia
Contact Details