Dr. Justin James
Breast, Endocrine & General Surgeon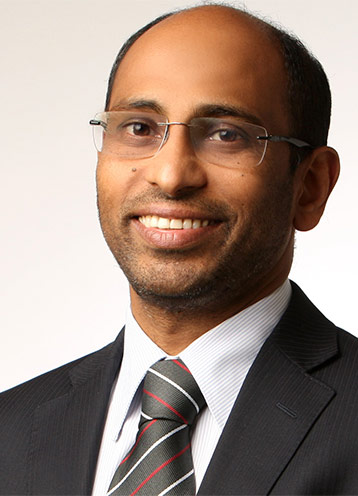 Dr. Justin James
Mr. James is a specialist breast, endocrine and general surgeon with expertise in the management of benign and malignant breast diseases, thyroid and parathyroid diseases, and common general surgical conditions. He is highly skilled in oncoplastic breast surgery where plastic surgical principles and techniques are used in the excision of breast cancers for enhanced cosmetic outcome, better clearance of the disease, and ultimately better patient satisfaction. He is skilled in efficiently managing benign and malignant thyroid and parathyroid diseases using minimally invasive techniques wherever possible. His breast, endocrine, and general surgical practice is enhanced by his skills and expertise in clinician-performed ultrasound and his passion for academic excellence. He is passionate about individualised care for his patients by working as part of a multidisciplinary team of specialists.
Mr. James completed his basic medical education and general surgical training in India obtaining Bachelor of medicine and Bachelor of surgery (MBBS), MS General Surgery, Diplomate of the National Board in General Surgery, and Fellowship of Royal college of Surgeons of Edinburgh (FRCS Ed).
He completed his specialist general surgical training in Monash Health and obtained Fellowship of Royal Australasian college of surgeons (FRACS) in 2014. He obtained his post fellowship breast and endocrine surgery training in the following years at Monash Health, Royal Perth Hospital, Eastern Health (Melbourne), and Robina Hospital (Gold Coast) finishing in the year 2017. He completed his Master of Surgery (breast surgery) during this time in Sydney University. He completed his training in the use of ultrasound in breast and endocrine surgery practice and obtained Certificate in clinician performed Ultrasound (CCPU) in 2019.
Since the completion of his training, Mr James works as a locum consultant breast, endocrine, and general surgeon at Eastern Health in Melbourne where the majority of his work is in oncoplastic breast surgery and endocrine surgery. He is a surgical member of Maroondah Breast screen since 2018. He also works as a consulting practitioner at Monash Breast Clinic. He is a member of a general surgical team providing acute general surgery at Box Hill Hospital.
He has been a member of the Section of Academic Surgery of RACS since 2016 and has actively participated in clinical research, with publications in a number of international peer-reviewed journals. His current research interests include 'role of staging investigations in early breast cancers' and 'relation of surgeon-perceived cosmetic outcome and patient-perceived quality of life after breast-conserving surgery'. He is active in clinical teaching with a current honorary appointment as a teaching associate at Monash University.
Qualifications
MBBS, FRACS, MS (Breast surgery)
Accredited at the Following Hospitals

Box Hill Hospital, Box Hill VIC 3128

Maroondah Hospital Eastern Health, Melbourne

Waverley private hospital

St John of God Berwick hospital

Special Interests

Oncoplastic Breast surgery

Thyroid and Parathyroid surgery

Associations

Breast Surg ANZ

General Surgeons Australia

Appointments

Consultant Breast and Endocrine surgeon
Practice Locations
Waverley Private Hospital

343-357 Blackburn Rd

Mount Waverley , Melbourne, Victoria 3149

Australia

Box Hill Hospital

8 Arnold St

Box Hill, Melbourne, Victoria 3128

Australia
Contact Details